Tribal Health Summit addresses health priorities of four sovereign Native nations in Kansas
As tribal populations across the country continue facing health disparities – higher rates of heart disease, diabetes, certain types of cancer, substance abuse and loss of life before and immediately after the COVID-19 pandemic – committed tribal members are working to curb these trends in Kansas.
The 2023 Kansas Tribal Health Summit, which brought together members of the state's four sovereign Native nations and key stakeholders on Aug. 28 at the Sunflower Nonprofit Center, celebrated tribal members' efforts to address the tribal communities' health concerns.
The Kansas Alliance for Tribal Community Health (KATCH), a new intertribal health coalition representing the Iowa Tribe of Kansas and Nebraska, Kickapoo Tribe in Kansas, Prairie Band Potawatomi Nation, and the Sac and Fox Nation of Missouri in Kansas and Nebraska, organized the summit. Due to the COVID pandemic, it was the first time in four years that the summit was held in-person.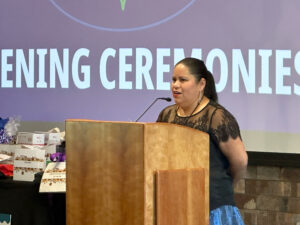 "I was happy to see everyone enjoying themselves at the summit and reuniting with friends and family post-COVID," said Dr. Ponka-We Victors-Cozad, the American Heart Association's Kansas Tribal Community Impact Director who coordinates activities with KATCH.
KATCH is committed to culturally relevant health education strategies that meet tribal communities' needs, with goals of improving the health and well-being of Native Americans across the state and creating sustainable support and infrastructure for the four tribes to address health inequities.
"The purpose of KATCH is to support the tribes in their identified health priorities," Victors-Cozad said. "The summit allows our communities to learn from experts and each other about the best ways to achieve optimal health and well-being."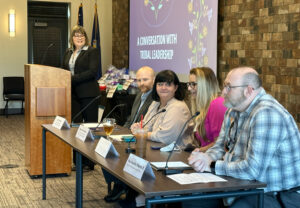 The opening panel discussion, featuring leaders from the four Kansas tribes, got right to the heart of tribal community health needs. Panelists included: Jay Mooney, director of the Prairie Band Potawatomi Nation Health Center; Brigette Robidoux, treasurer of the Sac and Fox Nation of Missouri in Kansas and Nebraska; Paul Austin, director of the Kickapoo Health Clinic; and Missty Slater, chief of staff for the Iowa Tribe of Kansas and Nebraska.
Topics addressed included the long-term effects of COVID on tribal communities, diabetes and chronic illness management, mental and behavioral health, elders' access to nursing homes, access to early childhood education, transportation to medical appointments, the need for additional clinic space and the desire for more telehealth opportunities, the challenges the tribes face in their efforts to find quality and dependable medical staff, and the need for tribal members to focus on healthy eating.
The goal of the summit was to raise awareness on such topics as mental health, food sovereignty, diabetes, COVID, women's and men's health, public health policy and the role of cultural restoration in optimal health.
Key speakers included Francon Francees, a licensed clinical mental health counselor and founder of the Wilmington, N.C.-based consulting group Healing Your Almond, and Dr. Anitra Warrior, American Indian child psychologist and owner of Morningstar Counseling in Lincoln, Neb.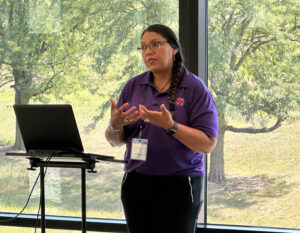 Francees' presentation, "Self-care and the Five Senses: Explore How Our Motions Live in Our Bodies," focused on stress, anxiety, and trauma and how they impact deep and outer brain function, as well as the importance of connection and its relationship to resilience. Dr. Warrior's session, "Reclaiming the Path of Wellness: Culturally Responsive Approaches in Behavioral Health and Substance Abuse," focused on mental and behavioral health.
Other sessions and activities included:
Protecting You and Your Family from COVID-19, led by Dr. Jamie Jacobsen, medical director for the Prairie Band Potawatomi Health Center.
Kansas State Rep. Christina Haswood, D-Lawrence and a member of the Navajo Nation, spoke about Tribal Public Health in Kansas Policy.
A panel discussion centering on Living Your Best Life with Diabetes.
A panel discussion focused on Breastfeeding Among Generations of Indigenous Moms in Kansas.
A Health Awareness Chalk Drawing Contest.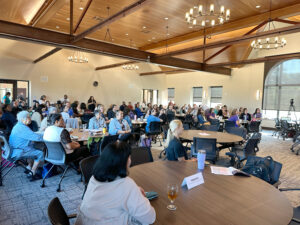 Nearly 125 tribal members and stakeholders packed both rooms of the Powerhouse Conference Center to participate in the opening ceremony and listen to keynote speakers and a panel with tribal council and health clinic leaders. Creative and culturally appropriate programming included all ages and used nearly all available space in the Nonprofit Center, including a "Your Vision of Health" chalk drawing contest on the eastside patio, breakout sessions of all sizes, and a Health Resources Exhibit in the Connector.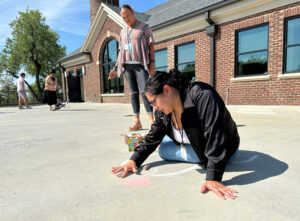 Native Chef LLC provided lunch using meat from the Prairie Band Potawatomie Nation bison reserve, and the Kansas Rural Center donated locally grown apples and homemade baked breads for snacks.
Whether the projects are walking trails, food systems and nutrition, or culturally appropriate health education, Sunflower Foundation Vice President of Healthy Communities Elizabeth Burger said she appreciated the foundation's tribal partners and the opportunity to partner with them through various projects for almost a decade.
"I am humbled by what I continue to learn about the enduring value of indigenous wisdom regarding optimal well-being and health," Burger said. "So much of that wisdom was highlighted by the presenters and participants alike at the Tribal Health Summit."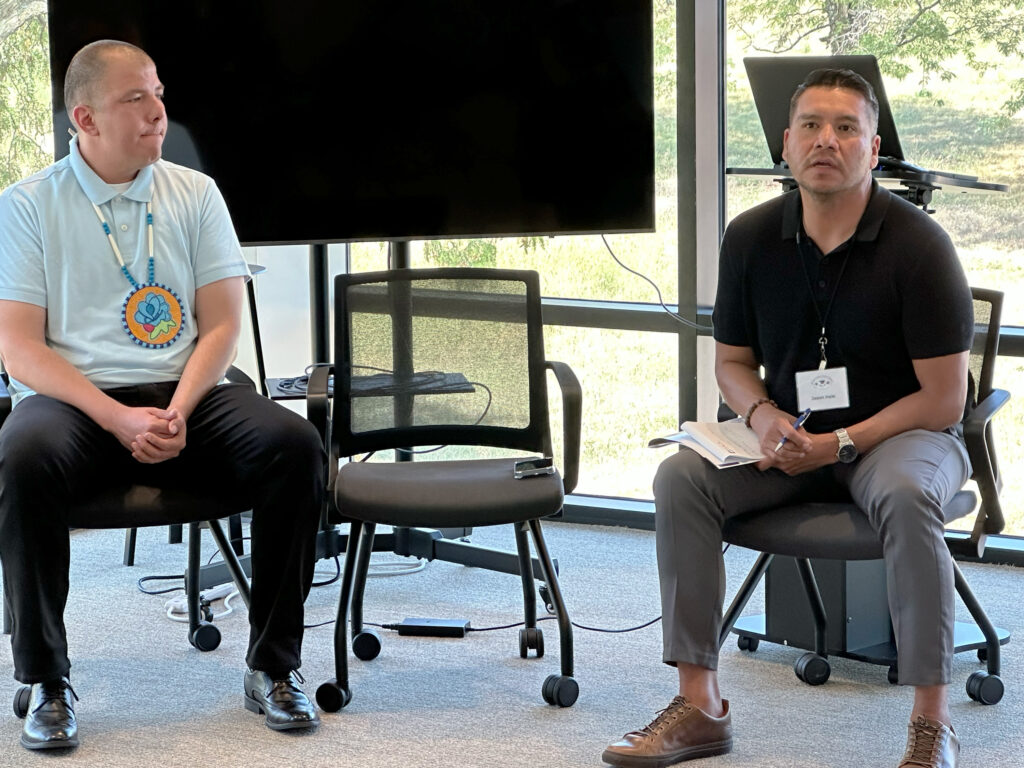 Click below to see each speaker's PowerPoint presentation.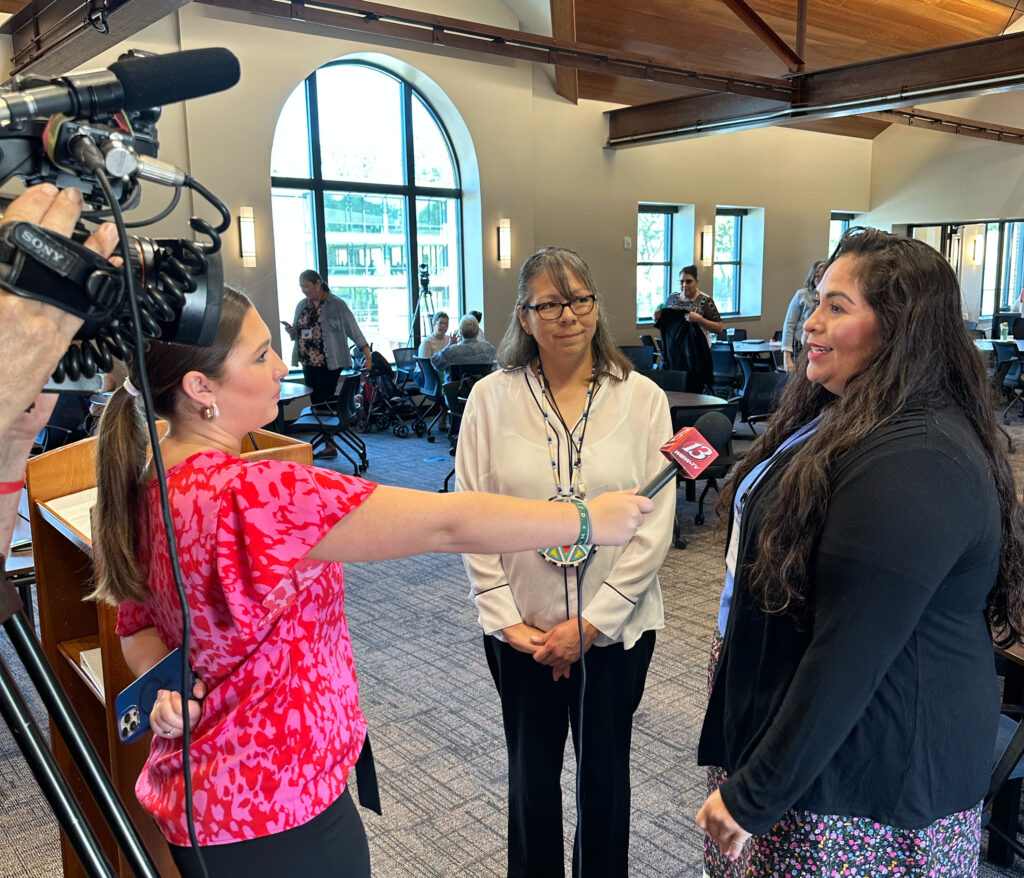 Tribal Health Summit in the News