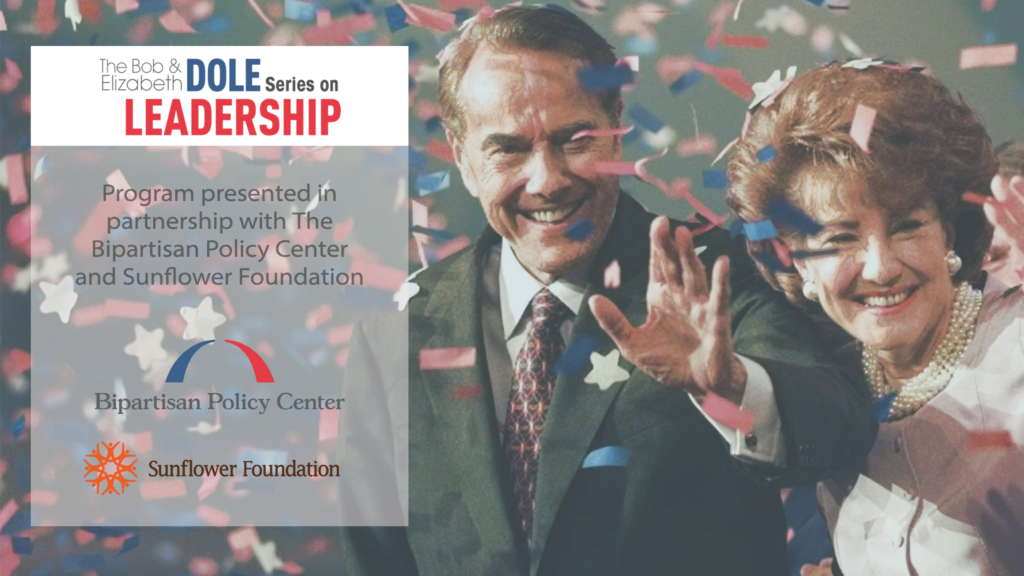 The Bipartisan Policy Center and Sunflower Foundation are pleased to present the 2023 Bob and Elizabeth Dole Series on Leadership, with this year's topic exploring the future of rural health care, with a focus on Kansas.
Those attending the event will be by invitation only and will include a diverse group of experts and stakeholders from across government, rural healthcare, academia, community nonprofits, and philanthropy.
WHAT: 2023 Bob and Elizabeth Dole Series on Leadership
WHEN: 1 to 4:30 p.m. Wednesday, April 26, 2023
WHERE: Powerhouse Conference Center at the Sunflower Nonprofit Center
WHY:   In 2018, to honor the extraordinary service of former Sens. Bob and Elizabeth Dole, the Bipartisan Policy Center established the Bob and Elizabeth Dole Series on Leadership. The Dole Series explores the country's greatest challenges and seeks to amplify the abundant opportunities we all have to create positive change.
The Bipartisan Policy Center is a Washington, D.C.-based think tank that actively fosters bipartisanship by combining the best ideas from both major U.S. political parties to promote health, security and opportunity for all Americans. This year's Series on Leadership, which is being hosted outside the nation's capital for the first time, will feature a pair of dynamic panel discussions addressing the opportunities within and the challenges facing rural health care in America.
The Bipartisan Policy Center and Sunflower Foundation will welcome the following panelists, who will explore issues critical to rural health care, including integrated care, workforce recruitment and hospital transformation:
Behavioral Health Integration in Rural America
Andy Brown – Commissioner of Behavioral Health Services at the Kansas Department for Aging and Disability Services
Kiley Floyd – CEO of Nemaha Valley Community Hospital
Eric Thomason – Vice President of Behavioral Health and Addiction Treatment at the Community Health Center of Southeast Kansas
Vikki Wachino – Former Director of Medicaid and CHIP Services with the Centers for Medicare and Medicaid Services
Navigating a Post-COVID-19 World Within Rural Health Systems
Dr. Craig Concannon – Chair of the Board of Managers at Kansas Clinical Improvement Collaborative and physician at Beloit Medical Center
Audrey Dunkel – Vice President of Government Relations at Kansas Hospital Association
Erin Schneider – Associate Director of External Relations for the Behavioral Health Education Center of Nebraska at the University of Nebraska Medical Center
Linda Sheppard – Senior Political Analyst at the Kansas Health Institute