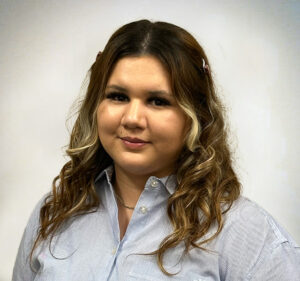 Maria Lopez handles day-to-day event management at the Sunflower Nonprofit Center, including pre-event planning, onsite logistical management during events and post-event cleanup. She was promoted to event manager in September 2023, after working as a member of the Nonprofit Center event staff, assisting with onsite event management.
Prior to joining the foundation, Maria was a bilingual referral coordinator for GraceMed Capitol Family Clinic in Topeka, where she referred patients to specialists, particularly in pediatric developmental/behavioral health. She also managed the clinic's Early Detection Works and Race Against Breast Cancer screening programs. Before joining GraceMed, Maria was an event coordinator assistant for Top of the Tower in Topeka, where she assisted with event coordination and catering for a variety of meetings and events.
Maria has an Associate in Addiction and Prevention Studies/Social Work from Allen County Community College.
785.232.3000
mlopez@sunflowerfoundation.org