Bipartisan Policy Center brings Dole Series to Kansas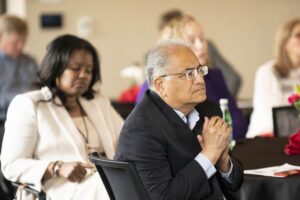 For the first time in the five-year history of the Bipartisan Policy Center's Bob & Elizabeth Dole Series on Leadership, the Washington, D.C., think tank took the event outside the nation's capital, partnering with Sunflower Foundation to bring a series of engaging discussions about the challenges and opportunities within rural health care to Kansas.
The BPC's two-day stay in Kansas started April 25 at the Dole Institute of Politics in Lawrence, where it partnered with the Dole Institute and Sunflower Foundation to present the 2023 Dole Lecture Series, featuring former Sens. Trent Lott and Tom Daschle.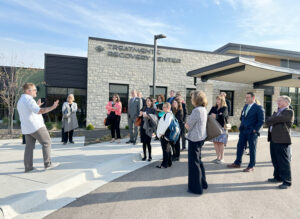 Day 2 kicked off on April 26 with Sunflower staff and guests from the BPC joining other stakeholders from around the state for a tour of the Treatment & Recovery Center of Douglas County in Lawrence. Bert Nash Community Mental Health Center Chief Operation Officer Stephen O'Neill and Director of Quality Improvement Jennifer Preston led the tour, which showcased the recently opened and Bert Nash-operated TRC, which is changing the way behavioral health services are delivered in Douglas County. At the TRC, trained behavioral health providers can assess and treat individuals' immediate needs and connect them with additional treatment and recovery resources in the community.
After the tour, the group listened to an engaging panel discussion at Lawrence Memorial Hospital that featured Lawrence and Douglas County leaders, who spoke about the teamwork that has gone into transforming the community's approach to behavioral health. Bob Tryanski, director of Behavioral Health Projects for Douglas County, moderated the discussion. Panelists included:
Anthony Lewis, superintendent of Lawrence Public Schools
District Court Judge Mark Simpson
Chief Rich Lockhart of the Lawrence Kansas Police Department
Nana Dadson, Chief Medical Officer, Bert Nash Community Mental Health Center
Shannon Oury, executive director of the Lawrence-Douglas County Housing Authority
Patrick Schmitz, Chief Executive Officer, Bert Nash Community Mental Health Center
Patrick Kelly, chair, County Commission of Douglas County, Kansas Government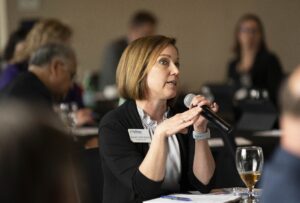 From there, the Dole Series event headed west to Topeka and the Sunflower Nonprofit Center, where Sunflower Foundation and BPC presented a pair of dynamic panel discussions featuring such topics as integrating behavioral health and primary care; workforce recruitment, retention and development within rural health care systems; and how hospital transformation continues to change the rural health care landscape.
The first discussion, "Behavioral Health Integration in Rural America," was moderated by Marilyn Serafini, executive director of the BPC's health program. Panelists explored how local, state and federal strategies can be coordinated in an effort to advance a "whole health," integrated model of care. Panelists included:
Andy Brown – commissioner of Behavioral Health Services at the Kansas Department for Aging and Disability Services
Kiley Floyd – CEO of Nemaha Valley Community Hospital
Eric Thomason – vice president of Behavioral Health and Addiction Treatment at the Community Health Center of Southeast Kansas
Vikki Wachino – former director of Medicaid and CHIP Services with the Centers for Medicare and Medicaid Services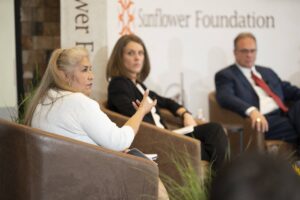 The second discussion, "Navigating a Post-COVID-19 World Within Rural Health Systems," was moderated by BPC Associate Director Julia Harris. Panelists spoke about the changes in care delivery and financing pre- and post-COVID, with a focus on hospitals. Topics included workforce recruitment and retention, new and existing payment models, and opportunities to bolster rural health systems. Panelists included:
Craig Concannon – chair of the Board of Managers at Kansas Clinical Improvement Collaborative and physician at Beloit Medical Center
Audrey Dunkel – vice president of Government Relations at Kansas Hospital Association
Erin Schneider – associate director of External Relations for the Behavioral Health Education Center of Nebraska at the University of Nebraska Medical Center
Linda Sheppard – senior political analyst at the Kansas Health Institute
Learn more about integrated care in the Bipartisan Policy Center's report and on Sunflower Foundation's website.
Discover more about the opportunities and challenges in rural health systems in the Bipartisan Policy Center's most recent report.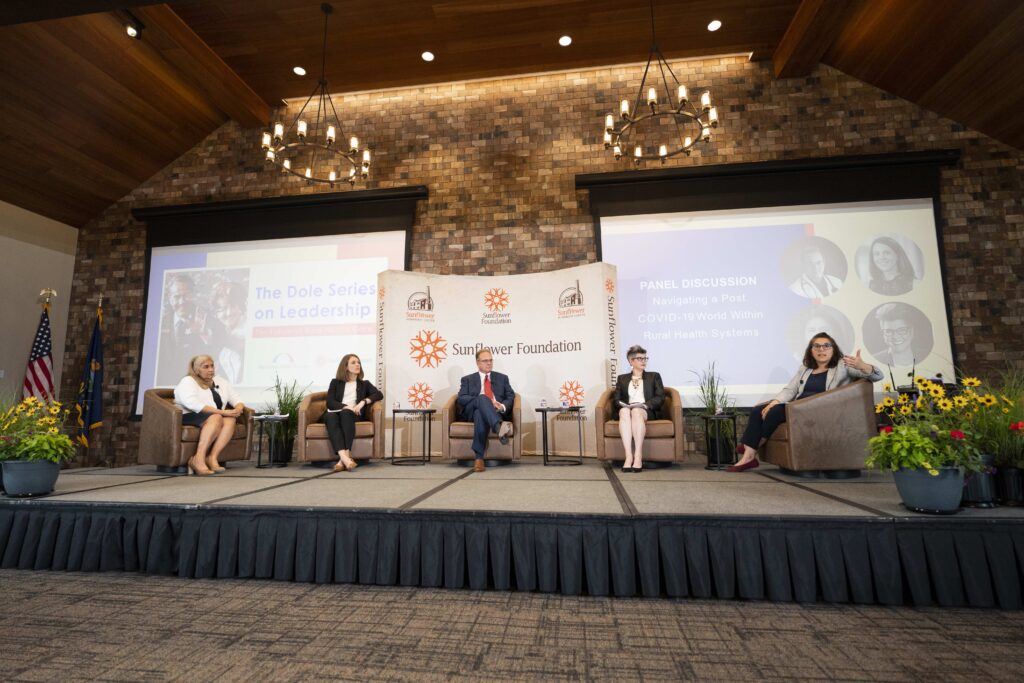 Learn more about our partners
Learn more about Sunflower Foundation's work in Health Systems